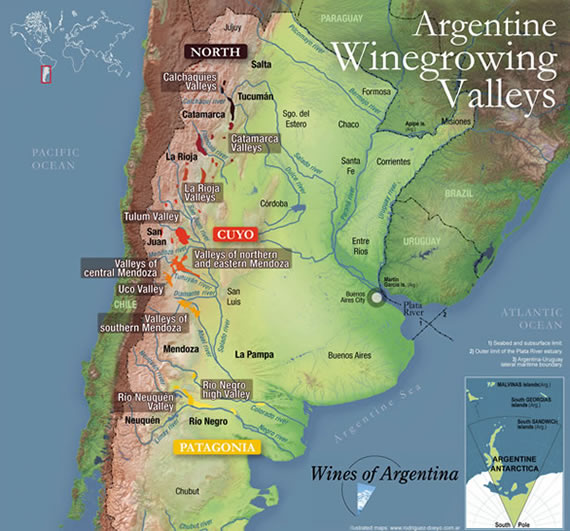 ---
Argentinian White Wines
Argentina is the fifth largest producer of wine in the world and until recently was a large consumer too. However economic crisis and spiralling inflation have helped reduce their domestic consumption. At the same time a shift in political attitudes opened up Argentina's borders and investors from the USA and Europe invested heavily in vineyard and winery projects.
The results were a dramatic improvement in quality and the replanting of some traditional grape varieties with International ones, and the introduction of Argentinian white wines onto the International market. Argentinian white grapes of note include Torontes for the white and Bonarda and Tannat for the red. They are best known for their excellent reds made from the Malbec grape, which ripens far better in the Argentinian climate than it ever could in it's native France. Argentina lies between the same lines of latitude as South Africa, South Australia and New Zealand and has a similar climate. Add to this glorious sunshine, the cooling effect of the vineyards at altitude in the foothills of the Andes and Argentina has the natural attributes to produce truly world class wines.
Argentina's image has suffered due to the mass produced cheap plonk featured in the supermarkets for the last few years, and the low-end Argentinian white wines imported by the big on-trade wholesalers. But don't be fooled, that is much more a reflection on the supermarkets and wholesalers than on Argentina! The quality end of the spectrum in Argentina is right up there amongst the very best in the world. They're able to produce stunning world class wines and at very competitive prices. If you've never tried GOOD Argentinian white wine before please try a few bottles from our site, and you'll wonder why you didn't do it years ago! Value for money they are currently unbeatable.
Sorry, No Products To Show
Showing all 0 results