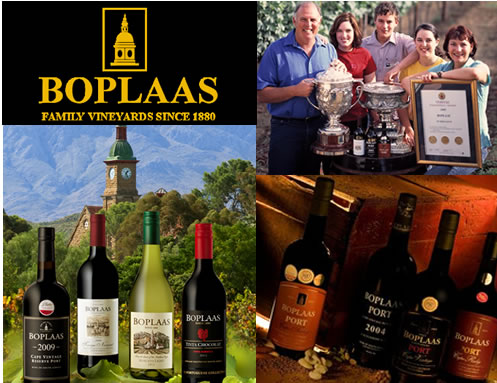 "Best Private Cellar at Veritas Wine Awards 2013 with 5 Double Gold & 6 Gold medals!
"Boplaas scoops double Gran d'Or at Michelangelo International Wine Awards 2013"
13 5 Star Platter ratings to date!!
Boplaas is situated in Calitzdorp, a small picturesque village in the Southern Cape in the majestic Little Karoo. The Nel family is part of a rich legacy that reaches back to more than 150 years. Boplaas is a family concern with Carel Nel, a Cape Wine Master, as owner and cellar master.
Boplaas has long been regarded as in the forefront in premium wine production. Boplaas is known for world-class table wines, "Ports" and their award winning pot-stilled brandies.
Vineyards
The vineyards of Boplaas are located at superior sites along the Gamka River, Nel's River and the slopes of the Gamka Valley to maximise the considerable diversity that exists in micro-climates and soil types. The different sites provide nuances of aroma and flavour, bringing complexity to the wines.
Grape varieties
Touriga Nacional, Tinta Barocca, Touriga Franseca, Souzao, Muscadel /Muscat de Frontignan, Colombar, Hanepoot/Muscat d'Alexandrie, Shiraz, Cabernet Sauvignon, Pinotage, Pinot Noir, Viognier, Sauvignon Blanc, Chardonnay
Production
An area of 70 hectares is planted in Calitzdorp, with contracts in Stellenbosch, Durbanville and Darling.
You can view our Boplaas red wines on our South African Red Wines Page
You can view our Boplaas white wines on our South African White Wines Page
And the Boplaas dessert wines and ports on or Port & Dessert Wines Page