We have maintained our standard delivery charge at £8.99 since our inception way back in 2007 and absorbed all the increases in both packaging materials and courier charges since.
It is with regret that we have had to take the difficult decision now to pass some of those increases on as costs have risen by so much it has become completely unsustainable to heavily subsidise small orders.
Our standard delivery charge is now £10.99 as we are still subsidising and not passing on the full cost that the couriers charge us, nor the cost of the transit packaging. We have not increased our Scottish Highland prices despite heavy increases from the couriers who are also putting on heavy increases for Glasgow and Edinburgh. And we are still subsidising fully for orders over £250 (£300 for Highlands). We have tried to keep our delivery charges as low as possible for as long as possible and we trust that our customers understand the need for this regrettable increase.
 Good News!
APC are now including Saturday as a standard day (for deliveries only, no collections) so you can order
by 2:30pm Friday for delivery on Saturday at no extra cost.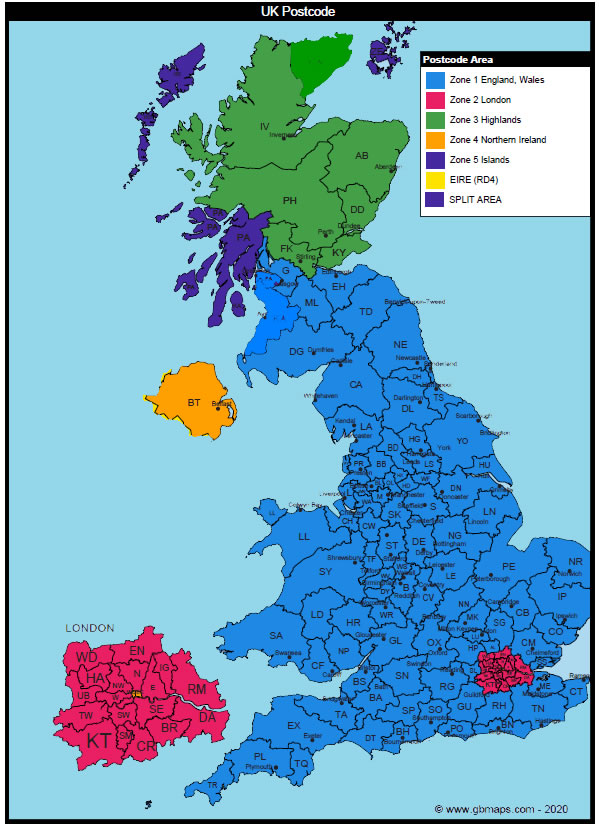 PLEASE NOTE THIS MAP IS FOR GUIDANCE ONLY – IT MAY NOT BE ACCURATE FOR THE "PA" MAINLAND POST CODES
SORRY BUT WE ONLY DELIVER TO MAINLAND UK AND CAN NO LONGER DELIVER TO ANY ISLANDS (NOT CONNECTED TO THE MAINLAND BY BRIDGE), NOR CAN WE DELIVER TO NORTHERN IRELAND.
ZONES 1 & 2 – next working day 
We are absorbing the additional costs for London deliveries, so this "zone" applies to all mainland England and Wales plus the lowlands of Southern Scotland.
£10.99 for any quantity, FREE for orders of £250 or more
ZONE 3 – variable depending on location AB DD FK IV KW PA PH
Much of the Scottish Highlands is achieved on either a one or two day basis. APC list the outlying areas as a 2-5 day service but everything we've sent has arrived within 2 days.
£17.95 for orders up to £125, £10.99 for orders between £125 and £300, FREE for orders of £300 or more
PLEASE NOTE – We do not ship overseas, and sadly that also includes both Northern Ireland and the Republic of Ireland.
Our delivery system
We operate all our deliveries on a 'Next Working Day' basis, using the APC Network. The courier networks do not work Sundays or Bank Holidays, but APC are now classing Saturday as a "working day" (finally!). So please allow for this particularly if you are having your wine delivered to a work address.
Deadline and Schedule
The deadline for orders to be placed in time for next day delivery is 2.30pm, but we will still endeavour to process any orders placed after this if we have the time. Goods are collected from here by the courier any time between 3pm and 4pm, then transported over night via a hub system to the relevant depot for local delivery to the customer the following day.
Orders placed between Friday 2.30pm and Monday 2.30pm will be despatched that Monday to arrive at the customer's address on Tuesday. Orders placed before 2.30pm Tuesday will be despatched same day to arrive Wednesday, orders placed before 2.30pm Wednesday will arrive on Thursday and so on, so last orders for delivery in time for the weekend is now 2:30pm Friday.
Charges
We try to keep charges to a minimum, so we subsidise the delivery rate we are charged by the couriers, and we pay all carriage on orders over £250 (zone 1). We also have our own custom made packaging for safe transport through the networks and this also costs of course. This is on top of our already super keen prices, as we pride ourselves on having the most competitive prices in the UK for virtually every wine we stock. Please don't be fooled by these headline grabbing rates of "free delivery on orders over £50" that some other online retailers promote – delivery costs money, and they will be making it back by overcharging you for the wine!
Delivery Delays
While the couriers do a great job and successfully deliver virtually all our orders next day, we cannot guarantee they will complete every delivery on time. Very occassionally there could be a delay caused by breakage, a crash or road closure on the motorway network, or simply bad weather like heavy snow. If this happens they will deliver your wine as soon as is reasonably possible. You as the customer are paying for "delivery" which we choose to provide on a next working day basis where possible. We cannot offer a refund of delivery charge in case of a short delay of a day or two.
Specific Requests
The couriers have their own operating standards which we have to comply with. While on the whole they are accomodating of any reasonable requests, neither they nor us can be responsible for them not carrying out specific requests such as providing specific delivery times, or trying multiple neighbours if you are out. They are part of a nationwide business delivering millions of parcels a day, and they have strict timescales to work to, often only a couple of minutes per delivery.
You can have your order left with a neighbour, or opt to have it left unsigned in a safe place such as garage or porch, although this is at your own risk.
APC send an automated text giving a two hour window and now have a live tracking system so you can follow your wine in real time. Keep an eye out for their pre delivery email with all your tracking details on.