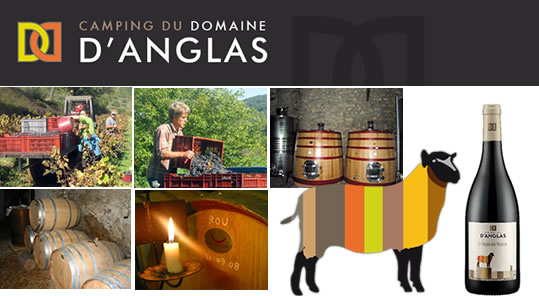 Domaine D'Anglas is both a tiny winery (certified organic) making excellent sulphite free wines, and a campsite in the picturesque Herault Valley about 45 km north of Montpellier, owned and run by Carole & Roger Gaussorgues. Their wines are made naturally, patiently and carefully without any artificial additives whatsoever. Everything is done traditionally by hand with love and care, to handcraft delicious wines.
The campsite set within 115 hectares of protected parkland is in one of the most beautiful regions of France with the Herault River and Gorge, and the second most beautiful town in France – Saint Guilhem le Désert.
We discovered their wines quite by accident in a restaurant in Montpellier after a hard day's tasting at the Millesime Bio Organic wine show. We were so impressed they were the first contact we made on our return.
You can view our Domaine D'Anglas wines on our Sulphite Free Wines Page