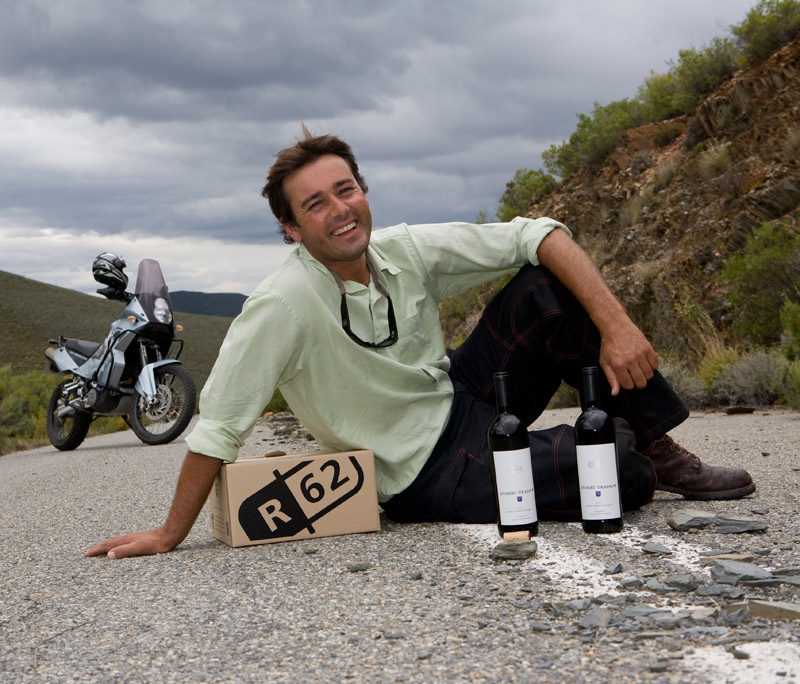 A unique tiny family winery in a little known but seriously up and coming region of South Africa outside the more traditional winelands. Barrydale is approximately 150 miles east of Cape Town on the incredibly scenic Route 62. The Tradauw Valley is famous for it's magnificent scenery, and if you plan to drive the Garden Route this is a "must see", far more impressive than driving N2 to the south.
Meyer Joubert is viticulturist and winemaker. Brought up in the Tradauw Valley, Meyer travelled and worked in Napa before returning to the family farm. Initially it was fruit but they quickly realised the region's unique potential for growing premium grapes. It is something to do with the valley's location between two weather fronts producing unique climatic conditions – I'm no expert on these things so I won't try to explain it any more than that, but suffice to say that Meyer produces excellent grapes and subsequently some truly outstanding wines.
It is Meyer's ambition to produce South Africa's best wine, and he believes it can be done from Tradauw. He is hugely passionate about nature, and dedicated to a minimalist labour intensive approach allowing the fruit to do all the talking. He uses organic techniques and absolute minimal additives.
Meyer's wife, Beate, runs a very healthy informal deli restaurant on the property using local produce to provide delicious local delicacies. She has also published a cook book with some stunningly good recipes. And they are into their blues music and motorbikes also. When you see R62 you can see why a biker would just love it!
Meyer's wines really are something special. Made with passion, with a real purity that I absolutely love. He used to only make three wines, a hand picked classic elegant Chardonnay, a Syrah naturally fermented and unfiltered, and his R62 Blend which has been selected for SA Airlines first class. He has since added a limited Cabernet Franc of just 600 bottles, a top class very Burgundian Pinot Noir and a new R62 Alternative blend at a cheaper price point. We hope to get hold of some of this on our next order. They are all superb earning Joubert Tradauw a place in South Africa's Top 10 wineries according to Neil Pendock, one of the John Platter Guide team.
You can view Meyer's red wines on our South African Red Wines Page
And his superb Chardonnay on our South African White Wines Page