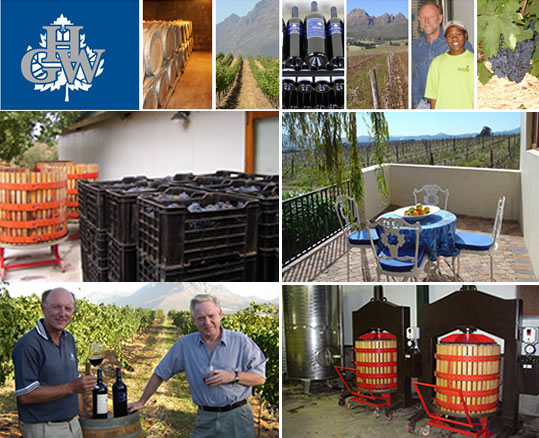 Grangehurst Winery on Eikendal Road in Stellenbosch is one of South Africa's very finest wineries producing exceptional unhurried red wines (and one Rose). It was founded by Jeremy Walker back in 1992 on the slopes of the Helderberg Mountain.
On Jeremy's first vintage he won the trophy for South Africa's Champion Wine! And since then he has accumulated a very impressive array of awards including the first 5-star rating for a red wine by Wine Magazine, the only CWG wine to be rated 5-stars by Wine Magazine, the only Pinotage (Hidden Valley) to be rated 5-stars by Wine Magazine as well as a Platter 5-star award for Grangehurst Cabernet Sauvignon Merlot blend, and the Nikela has received a 92-point Parker rating (USA).
In fact the Nikela 2005 has just been voted in the top 5 Cape Blends by the Pinotage Association, winning Jeremy a trip out to California. His Cabernet Merlot 2005 just beat 8 top Bordeaux (costing five times as much or more) in a blind tasting in California too! And all his wines have consistently scored 4 to 4.5 Stars in the Platter guide, year after year. Jeremy is of course a member of South Africa's elite winemaking circle – the Cape Winemakers Guild. And Grangehurst is also Wine Magazine's most awarded 5 Star Winery.
Jeremy describes his wines as European in style with elegance and structure, rather than new world blockbusters – "French style with more fruit". They take time to produce being aged at the winery for a number of years prior to release – something unusual for new world producers.
We're delighted to be working with him bringing his excellent wines to our customers here in the UK. And if you are lucky enough to be visiting Stellenbosch Jeremy and Mandy have two cottages at the winery which make an excellent base for exploring.
You can view Grangehurst wines on our South African Red Wines page (big page so you may need to scroll through)